Welcome to the Thompson's Prawn Farm website! North Carolina's own freshwater prawn producer. We're a licensed aquaculture provider, specializing in jumbo freshwater prawns. Prawns are a healthy source of nutrition and taste great! Go to our "Prawns" section to find out more information about the freshwater prawns we raise at Thompson Farms.

Thompson's Prawn Farm is dedicated to serving its customers with a premium quality product. We take extra efforts to ensure everyone is happy with our succulent prawns. We've created this website to give our customers additional information about how prawns are raised, harvested and prepared. We've even added a "Recipes" section to give you a variety of ways to cook our prawns. So, browse our site and learn more about prawn production in NC as well as other useful tidbits of information on prawns. We know that once you've tried our product, you'll be back! Enjoy....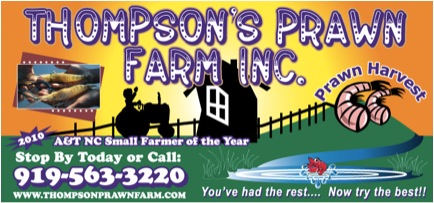 This year we will harvest on Friday, September 27th, 2019.... Please come out and join us!